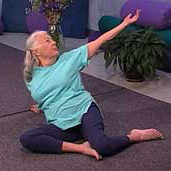 May Ageless Yoga be of service to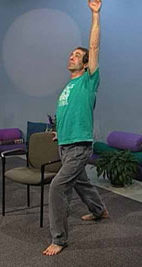 all seeking to grow in health,
well-being, and inner peace
The Ageless Yoga DVD series, which includes a Spanish language DVD, offers a large number of options for people of all sizes, shapes, and ages.
Each DVD contains multiple routines that range from less than ten minutes to about twenty minutes. Both gentle and challenging work-outs are included, and routines are also combined for longer sessions.
John offers innovative, flowing yoga routines that are informative as well as enjoyable. Rhythmic movement and breathing is the foundation of John's easygoing, natural style, and the work promotes supple strength, joint mobility, balance, and inner quiet.
"My main hope for these DVDs: That people will not only find enjoyment in working with body and breath while getting a great whole-body workout—but that they will also learn skills and information that are useful in daily life."~John Schlorholtz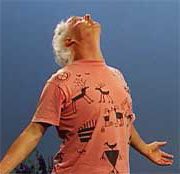 Something to consider: It's true that chair yoga is accessible to a larger population than floor work. However, that doesn't mean that chair work is inferior. Floor work and chair work complement each other. Each allows for different angles of movement; each provides different freedoms and restrictions; each offers excellent work for every joint and muscle.
SUGGESTIONS FOR USE
The DVDs can be practiced alone or with friends.
Because of their adaptability they work very well as a group activity at community centers like senior centers, churches, temples, or mosques. Ask your library to carry them.